Research
Papers and Publications
---
[1] Vijesh, M.; Iyengar, S.; Vijay Mahantesh, S.M.; Ramesh, A.; Pandurangan, C.; Madhavan, V. A navigation algorithm inspired by human navigation. Proceedings of the 2012 IEEE/ACM International Conference on Advances in Social Networks Analysis and Mining (ASONAM). Paper PDF
[2] Vijay Mahantesh, S.M. ; ISI, Chennai, India ; Iyengar, S. ; Vijesh, M. Prediction of Arrival of Nodes in a Scale Free Network. Proceedings of the 2012 IEEE/ACM International Conference on Advances in Social Networks Analysis and Mining (ASONAM). Paper PDF
Presentations and Posters
---
[1] Li, T. J-J, Murganoor, V., Ford, J., Downey, D., Hecht, B. and Sen, S. 2015. Atlasify – The Geography of Everything. The Social Media and Business Analytics Collaborative (SOBACO) Spring Research Symposium. Minneapolis, MN. May 14, 2015 Link
[2] Rendered Ghosts
For the second year in a row, students and faculty from Northwestern University and SAIC came together for the interinstitutional course, Data Viz Collaborative. Students investigated "big" data in the form of hundreds of thousands of Wikipedia entries, the foreclosure rates in neighborhoods on Chicago's West Side, and sounds of humans laughing and crying. The interdisciplinary groups then produced stunning visualizations that were displayed in an exhibition at SAIC's LeRoy Neiman Center and Northwestern's Segal Design Center.
Rendered Ghosts attempts to envision the recent history and ongoing social and political effects of the foreclosure crisis as it continues to impact individuals in Chicago. Utilizing a government data set highlighting the frequency and locations of foreclosures in Cook County, the installation engages viewers with the possibilities to consider how public discussions about private spaces can forge a collective consideration of the American Dream. Students: MJ Evans (SAIC), Guillermo Ibacache (NU), Vijay Murganoor (NU), Lauren Ramsey (SAIC), Alison Reilly (SAIC), Jessica Barrett Sattell (SAIC).
Interactive map :
Featured Research Projects
---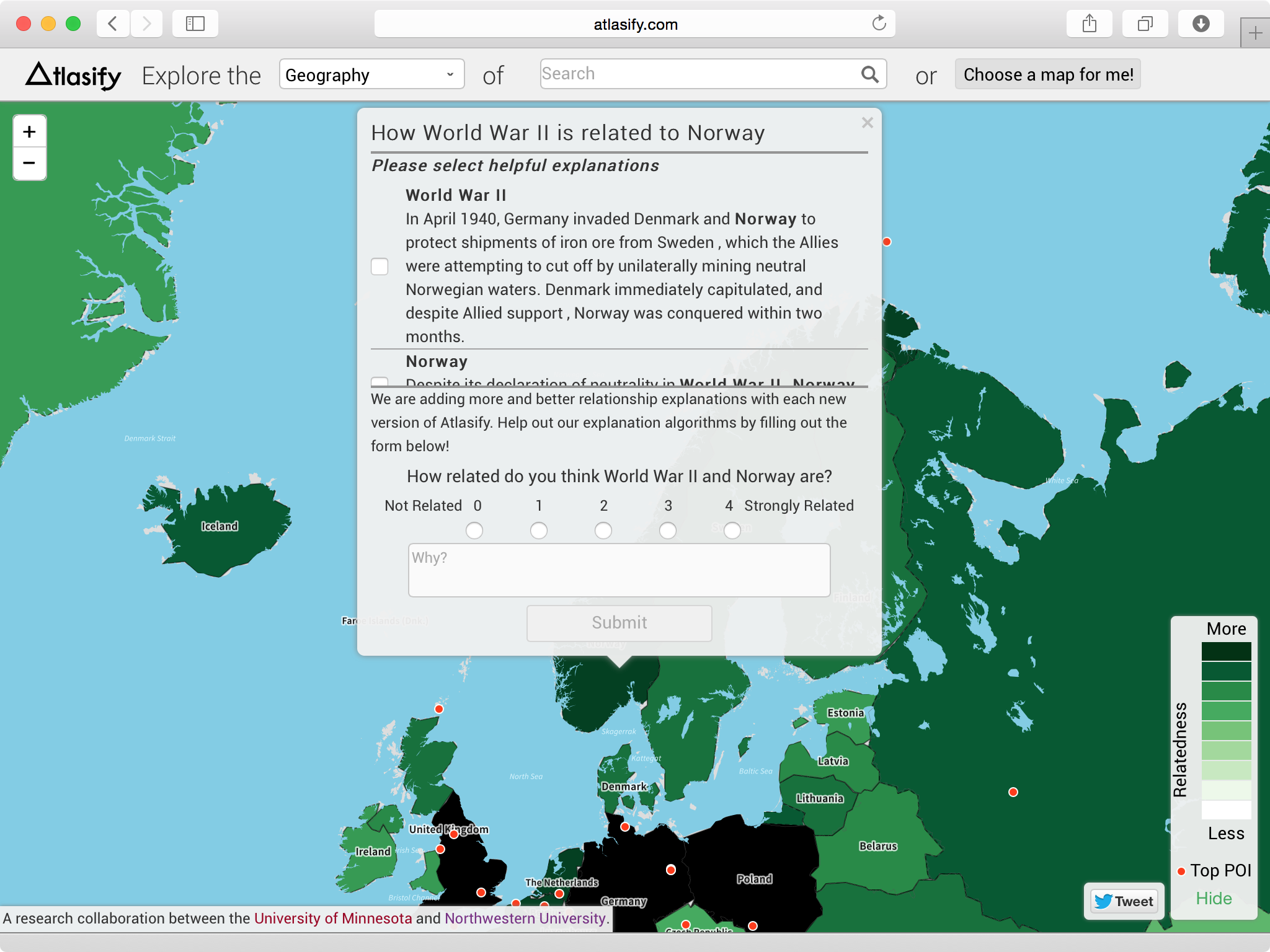 Atlasify is a novel information retrieval / interactive visualization system supporting exploratory search. As the student Researcher and Developer, I implemented the reasoning engine in the back end, enabling the system to dynamically compute the semantic relatedness and give suitable explanations for any given keywords and render the interactive map instantly. Since its beta release in June 2015, Atlasify has acquired thousands of active users and been featured on Wired, Phys.org and ACM Newsletter Based on Atlasify, we are now conducting a variety of user behavior studies and investigating the HCI aspect of spatialization and spatial information retrieval system design. Read more about Atlasify or Try out the beta version of Atlasify
Feature point detection is a hot topic in computer vision as it allows users to identify objects irrespective of the camera's viewpoint. I devoted significant time to improving our feature extraction library. Two cameras are often better than one and this is why humans and animals use stereo vision to navigate the world. To understand depth perception I added a complete stereo vision processing suite to SimpleCV. The project got featured in Google Opensource blog post.